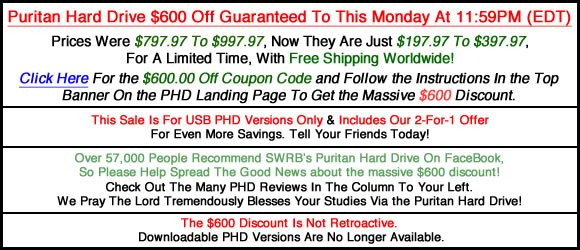 "Behind every great movement of God stands a few generous men and women called Gospel Patrons. Their role of resourcing, partnering, and strategizing with those who proclaim the gospel fueled amazing works of God. This book tells three stories from history that invite us to believe God, step out, and serve the purposes of God in our generation too." - Gospel Patrons: People Whose Generosity Changed the World https://www.gospelpatrons.org/ -- You can get a free PDF and audio (MP3) version of this stirring book at https://www.gospelpatrons.org/. Just sign up to their email list (at the bottom of of the page at https://www.gospelpatrons.org/), and confirm the email they send to you, to confirm your email subscription, and they will email you the links to the free versions of the book, Gospel Patrons: People Whose Generosity Changed the World, when they respond to your email list confirmation email. This book demonstrates the indisputable importance of the people God calls to help fund the ministries that He has chosen to play large rolls in some of the biggest Reformations and revivals in history. It uses the examples of William Tyndale, George Whitefield and John Newton. As with all links we provide we only agree with that which is in agreement with the Bible at the sites where the URLs point.
Puritan Sermons 1659-1689 (Volume 1, reprinted 1844) The Morning Exercises at Cripplegate, St. Giles in the Fields, and in Southwark by 75 Ministers of the Gospel in or Near London with Notes and Translations by James Nichol
Availability:
Available for immediate download
---
Resource Details
Full Title:
Puritan Sermons 1659-1689 (Volume 1, reprinted 1844) The Morning Exercises at Cripplegate, St. Giles in the Fields, and in Southwark by 75 Ministers of the Gospel in or Near London with Notes and Translations by James Nichol
Media:
Digital Download (Adobe PDF)
PDF Index:
Embedded, Appended
Publisher:
Still Waters Revival Books
---
Resource Description
Volume 1:
Sermon 1. Samuel Annesley. How May We Be Universally and Exactly Conscientious? And herein do I exercise myself, to have always a conscience void of offence toward God, and toward men.--Acts xxiv. 16 Page 1.
Sermon 2. William Greenhill. What Must and Can Persons Do Toward Their Own Conversion? Wherefore turn yourselves, and live ye.--Ezekiel xviii. 32 Page 38.
Sermon 3. Benjamin Needler. How May Beloved Lusts Be Discovered and Mortified? And if thy right eye offend thee, pluck it out, and cast it from thee: for it is profitable for thee that one of thy members should perish, and not that thy whole body should be cast into hell. And if thy right hand offend thee, cut it off, and cast it from thee: for it is profitable for thee that one of thy members should perish, and not that thy whole body should be cast into hell.--Matthew v. 29,30. Page 50.
Sermon 4. John Sheffield. What Relapses Are Inconsistent With Grace? For it is impossible for those who were once enlightened, and have tasted of the heavenly gift, and were made partakers of the Holy Ghost, And have tasted the good word of God, and the powers of the world to come, if they shall fall away, to renew them again unto repentance; seeing they crucify to themselves the Son of God afresh, and put him to an open shame.--Hebrews vi. 4-6. Page 71.
Sermon 5. John Gibbon. How May We Be So Spiritual, As To Check Sin in the First Risings Of It? Walk in the Spirit, and ye shall not fulfill the lust of the flesh.--Galatians v. 16. Page 87.
Sermon 6. Matthew Poole. How Ministers or Christian Friends May And Ought to Apply Themselves to Sick Persons, For Their Good, and the Discharge of Their Own Conscience. If there be a messenger with him, an interpreter, one among a thousand, to shew unto man his uprightness: then he is gracious unto him, and saith, Deliver him from going down to the pit: I have found a ransom.--Job xxxiii. 23,24. Page 111.
Sermon 7. John Kitchin. How Must We Reprove, That We May Not Partake of Other Men's Sins? Neither be partaker of other men's sins: keep thyself pure.--1 Timothy v. 22. Page 121.
Sermon 8. Samuel Lee. What Means May Be Used Toward The Conversion of Our Carnal Relations? Brethren, my heart's desire and prayer to God for Israel is, that they might be saved.--Romans x. 1. Page 142.
Sermon 9. Thomas Neast. What Are the Characters of a Soul's Sincere Love to Christ? And How May That Love to Him Be Kindled and Inflamed? Grace be with all them that love our Lord Jesus Christ in sincerity.--Ephesians vi. 24. Page 169.
Sermon 10. John Tillotson. Wherein Lies That Exact Righteousness, Which is Required Between Man and Man? Therefore all things whatsoever ye would that men should do to you, do ye even so to them: for this is the law and the prophets.--Matthew vii. 12. Page 194.
Sermon 11. Thomas Gouge. After What Manner Must We Give Alms, That They May Be Acceptable and Pleasing Unto God? Charge them that are rich in this world, that they be not highminded, nor trust in uncertain riches, but in the living God, who giveth us richly all things to enjoy; that they do good, that they be rich in good works, ready to distribute, willing to communicate; laying up in store for themselves a good foundation against the time to come, that they may lay hold on eternal life.--1 Timothy vi. 17-19. Page 213.
Sermon 12. Thomas Doolittle. If We Must Aim At Assurance, What Should They Do, That Are Not Able to Discern Their Own Spiritual Condition? These things have I written unto you that believe on the name of the Son of God; that ye may know that ye have eternal life.--1 John v. 13. Page 252.
Sermon 13. Roger Drake. What Difference Is There Between The Conflict in Natural and Spiritual Persons? But I see another law in my members, warring against the law of my mind, and bringing me into captivity to the law of sin which is in my members.--Romans vii. 23. Page 284.
Sermon 14. Thomas White. What Faith is That Which Except We Have in Prayer, We Must Not Think to Obtain Any Thing of God? But let him ask in faith.--James i. 6. Page 292.
Sermon 15. Of the Cause of Inward Trouble; And How a Christian Should Behave Himself When Inward and Outward Troubles Meet. And they said one to another, We are verily guilty concerning our brother, in that we saw the anguish of his soul, when he besought us, and we would not hear; therefore is this distress come upon us. And Reuben answered them, saying, Spake I not unto you, saying, Do not sin against the child; and ye would not hear? therefore, behold, also his blood is required.-- Genesis xlii. 21,22. Page 306.
Sermon 16. Joseph Hill. In What Things Must We Use Moderation, And in What Not? Let your moderation be known unto all men. The Lord is at hand.--Philippians iv. 5. Page 331.
Sermon 17. Thomas Mallery. How May We Have Suitable Conceptions of God in Duty? And Abraham answered and said, Behold now, I have taken upon me to speak unto the Lord, which am but dust and ashes.--Genesis xviii. 27. Page 360.
Sermon 18. Thomas Lye. How Are We to Live By Faith on Divine Providence? Trust in him at all times, ye people.--Psalm lxii. 8 Page 369.
Sermon 19. Thomas Manton. How May We Cure Distractions in Holy Duties? Ye hypocrites, well did Esaias prophesy of you, saying, This people draweth nigh unto me with their mouth, and honoureth me with their lips; but their heart is far from me.--Matthew xv. 7,8. Page 400.
Sermon 20. William Cooper. How Must We in All Things Give Thanks? In every thing give thanks: for this is the will of God in Christ Jesus concerning you.--1 Thessalonians v. 18. Page 415.
Sermon 21. Mr. Simmons. How May We Get Rid of Spiritual Sloth, and Know When Our Activity in Duty is From the Spirit of God? Quicken thou me in thy way.--Psalm cxix. 37. Page 434.
Sermon 22. Henry Wilkinson. Wherein Are We Endangered By Things Lawful? They did eat, they drank, they married wives, they were given in marriage, until the day that Noe entered into the ark, and the flood came, and destroyed them all. Likewise also as it was in the days of Lot; they did eat, they drank, they bought, they sold, they planted, they builded; but the same day that Lot went out of Sodom it rained fire and brimstone from heaven, and destroyed them all.--Luke xvii. 27-29. Page 458.
Sermon 23. Thomas Watson. How Must We Make Religion Our Business? Wist ye not that I must be about my Father's business?--Luke ii. 49. Page 467.
Sermon 24. Henry Hurst. Whether Well-Composed Religious Vows Do Not Exceedingly Promote Religion. What shall I render unto the LORD for all his benefits toward me? I will pay my vows unto the LORD now in the presence of all his people.--Psalm cxvi. 12, 14. Page 479.
Sermon 25. William Whitaker. How Are We Complete In Christ? But Christ is all and in all.--Colossians iii. 11. Page 500.
Sermon 26. John Jackson. How Shall Those Merchants Keep Up the Life of Religion, Who, While At Home, Enjoyed All Gospel Ordinances, And, When Abroad, Are Not Only Destitute of Them, But Exposed to Persecution? Woe is me, that I sojourn in Mesech, that I dwell in the tents of Kedar!--Psalm cxx. 5. Page 517.
Sermon 27. Andrew Bromhall. How Is Hypocrisy Discoverable and Curable? First of all, Beware ye of the leaven of the Pharisees, which is hypocrisy.--Luke xii. 1. Page 535
Sermon 28. David Clarkson. What Must Christians Do, That The Influence of The Ordinances May Abide Upon Them? O LORD God of Abraham, Isaac, and of Israel, our fathers, keep this for ever in the imagination of the thoughts of the heart of thy people, and prepare their heart unto thee.-- 1 Chronicles xxix. 18. Page 553.
Supplement to the Morning Exercise at Cripplegate.
Sermon 1. Samuel Annesley How May We Attain to Love God With All Our Hearts, Souls, and Minds? Jesus said unto him, Thou shalt love the Lord thy God with all thy heart, and with all thy soul, and with all thy mind. This is the first and great commandment.--Matthew xxii. 37, 38. Page 572.
Sermon 2. John Milward. How Ought We to Love Our Neighbours as Ourselves? Thou shalt love thy neighbour as thyself.--Matthew xxii. 39. Page 621.
Sermon 3. Theophilus Gale. Wherein the Love of the World is Inconsistent With the Love of God. Love not the world, neither the things that are in the world. If any man love the world, the love of the Father is not in him.--1 John ii. 15. Page 642.
Sermon 4. William Jenkin. Now is the Time: Or, Instructions For The Present Improving The Season of Grace. We then, as workers together with him, beseech you also that ye receive not the grace of God in vain. For he saith, I have heard thee in a time accepted, and in the day of salvation have I succoured thee: behold, now is the accepted time; behold, now is the day of salvation.--2 Corinthians vi. 1,2. Page 665.
---
All resources for sale on this website, with the exception of Scottish Metrical Psalms MP3s, are available on the Puritan Hard Drive .
VIDEO INTRODUCTION TO THE PURITAN HARD DRIVE
(This free software includes over 300 Reformation and Puritan Books and MP3s, and the Puritan Hard Drive software and database!)
---
Find Similar Resources by Category
---
---
Phone Orders:
(780) 450-3730
---


To obtain free Reformation books, Puritan MP3s and Calvinistic videos, SWRB discount coupons, etc., add yourself to SWRB's Puritan and Reformed email list by using the form above.
---
---
---
---
---
---
---
---
---
---
---
---
---
---
---
---
---
---
---
---
---
---
---
---
---