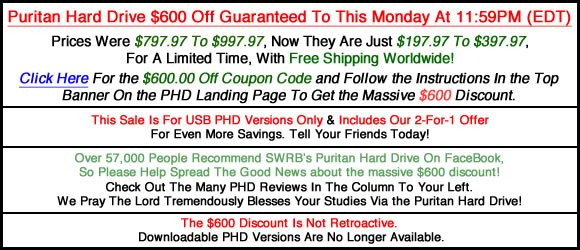 "Behind every great movement of God stands a few generous men and women called Gospel Patrons. Their role of resourcing, partnering, and strategizing with those who proclaim the gospel fueled amazing works of God. This book tells three stories from history that invite us to believe God, step out, and serve the purposes of God in our generation too." - Gospel Patrons: People Whose Generosity Changed the World https://www.gospelpatrons.org/ -- You can get a free PDF and audio (MP3) version of this stirring book at https://www.gospelpatrons.org/. Just sign up to their email list (at the bottom of of the page at https://www.gospelpatrons.org/), and confirm the email they send to you, to confirm your email subscription, and they will email you the links to the free versions of the book, Gospel Patrons: People Whose Generosity Changed the World, when they respond to your email list confirmation email. This book demonstrates the indisputable importance of the people God calls to help fund the ministries that He has chosen to play large rolls in some of the biggest Reformations and revivals in history. It uses the examples of William Tyndale, George Whitefield and John Newton. As with all links we provide we only agree with that which is in agreement with the Bible at the sites where the URLs point.
Puritan Sermons 1659-1689 (Volume 3, reprinted 1844) The Morning Exercises at Cripplegate, St. Giles in the Fields, and in Southwark by 75 Ministers of the Gospel in or Near London with Notes and Translations by James Nichol
Availability:
Available for immediate download
---
Resource Details
Full Title:
Puritan Sermons 1659-1689 (Volume 3, reprinted 1844) The Morning Exercises at Cripplegate, St. Giles in the Fields, and in Southwark by 75 Ministers of the Gospel in or Near London with Notes and Translations by James Nichol
Media:
Digital Download (Adobe PDF)
PDF Index:
Embedded, Appended
Publisher:
Still Waters Revival Books
---
Resource Description
Volume 3:
Sermon 1. Samuel Annesley. How Is The Adherent Vanity of Every Condition Most Effectually Abated By Serious Godliness? Seeing there be many things that increase vanity, what is man the better? For who knoweth what is good for man in this life?--Ecclesiastes vi. 11, 12. Page 1.
Sermon 2. Edward Veal. How May We Experience In Ourselves, And Evidence to Others, That Serious Godliness is More Than a Fancy? Be ready always to give an answer to every man that asketh you a reason of the hope that is in you.--1 Peter iii. 15. Page 38.
Sermon 3. Thomas Watson. Hoe God Is His People's Great Reward. I am thy shield, and thy exceeding great reward.--Genesis xv. 1 Page 67.
Sermon 4. John Howe. What May Most Hopefully Be Attempted to Allay Animosities Among Protestants, That Our Divisions May Not Be Our Ruin? That their hearts might be comforted, being knit together in love, and unto all riches of the full assurance of understanding, to the acknowledgment of the mystery of God, and of the Father, and of Christ.--Colossians ii. 2. Page 81.
Sermon 5. William Jenkin. How Ought We to Bewail the Sins of the Places Where We Live? And delivered just Lot, vexed with the filthy conversation of the wicked: (for that righteous man dwelling among them, in seeing and hearing, vexed his righteous soul from day to day with their unlawful deeds.)--2 Peter ii. 7,8. Page 110.
Sermon 6. William Cooper. How a Child of God Is to Keep Himself in the Love of God. Keep yourselves in the love of God.--Jude 21. Page 129.
Sermon 7. Thomas Lye. What May Gracious Parents Best Do For The Conversion of Those Children Whose Wickedness Is Occasioned By Their Sinful Severity or Indulgence? He shall turn the heart of the fathers to the children, and the heart of the children to their fathers.--Malachi iv. 6 Page 154.
Sermon 8. Henry Hurst. How May We Best Cure the Love of Being Flattered? A lying tongue hateth those that are afflicted by it; and a flattering mouth worketh ruin.--Proverbs xxvi. 28. Page 185.
Sermon 9. Robert Trail. By What Means May Ministers Best Win Souls? Take heed unto thyself, and unto the doctrine; continue in them: for in doing this thou shalt both save thyself, and them that hear thee.--1 Timothy iv. 16. Page 199.
Sermon 10. John Owen. How Is The Practical Love Of Truth The Best Preservative Against Popery? If so be ye have tasted that the Lord is gracious.--1 Peter ii. 3. Page 211.
Sermon 11. Richard Baxter. What Are The Best Preservatives Against Melancholy and Overmuch Sorrow? Lest perhaps such an one should be swallowed up with overmuch sorrow.--2 Corinthisns ii. 7. Page 253.
Sermon 12. Nathaniel Vincent. How We May Grow in the Knowledge of Christ. And in the knowledge of our Lord and Saviour Jesus Christ.--2 Peter iii. 18 Page 293.
Sermon 13. Samuel Slater. How May Our Belief of God's Governing The World Support Us In All Worldly Distractions? The lord reigneth; let the earth rejoice; let the multitude of isles be glad thereof. Clouds and darkness are round about him: righteousness and judgment are the habitation of his throne.--Psalm xcvii. 1, 2. Page 314.
Sermon 14. Richard Steele. What Are The Hindrances And Helps To A Good Memory in Spiritual Things? By which also ye are saved, if ye keep in memory what I preached unto you, unless ye have believed in vain.--1 Corinthians xv. 2. Page 345.
Sermon 15. William Bates. What Are The Signs And Symptoms Whereby We Know That We Love The Children of God? By this we know that we love the children of God, when we love God, and keep his commandments.--1 John v. 2. Page 368.
Sermon 16. Richard Mayo. What Must We Do To Prevent And Cure Spiritual Pride? And lest I should be exalted above measure through the abundance of the revelations, there was given to me a thorn in the flesh, the messenger of Satan to buffet me, lest I should be exalted above measure.--2 Corinthians xii. 7. Page 378.
Sermon 17. John Oakes. Wherein Is A Middle Worldly Condition Most Eligible? Remove far from me vanity and lies: give me neither poverty nor riches; feed me with food convenient for me: lest I be full, and deny thee, and say, Who is the Lord? Or lest I be poor, and steal, and take the name of my God in vain.--Proverbs xxx. 8,9. Page 394.
Sermon 18. Stephen Lobb. How May We Graciously Improve Those Doctrines and Providences Which Transcend our Understandings? O the depth of the riches both of the wisdom and knowledge of God! How unsearchable are his judgments, and his ways past finding out!--Romans xi. 33. Page 417.
Sermon 19. John Milward. How Ought We To Do Our Duty Toward Others, Though They Do Not Theirs Toward Us? Be not overcome of evil, but overcome evil with good.--Romans xii. 21. Page 451.
Sermon 20. Thomas Cole. How May The Well-Discharge of Our Present Duty Give Us Assurance of Help From God For the Well-Discharge of All Future Duties? And David said unto Saul, Thy servant kept his father's sheep, and there came a lion, and a bear, and took a lamb out of the flock, and I went out after him, and smote him, and delivered it out of his mouth, &c.--1 Samuel xvii. 34-37; Psalm xxvii. 14; Proverbs x. 29; 2 Chronicles xv. 2. Page 471.
Sermon 21. Vincent Alsop. What Distance Ought We To Keep, In Following the Strange Fashions of Apparel Which Come Up In The Days Wherein We live? And it shall come to pass in the day of the Lord's sacrifice, that I will punish the princes, and the king's children, and all such as are clothed with strange apparel.--Zephaniah i. 8. Page 488.
Sermon 22. Richard Adams. How May Child-Bearing Women Be Most Encouraged And Supported Against, In, and Under the Hazard of Their Travail? Notwithstanding she shall be saved in child-bearing, if they continue in faith, and charity, and holiness, with sobriety.--1 Timothy ii. 15. Page 531.
Sermon 23. Peter Vinke. How May We Best Know The Worth of the Soul? For what is a man profited, if he shall gain the whole world, and lose his own soul? Or what shall a man give in exchange for his soul?--Matthew xvi. 26. Page 562.
Sermon 24. Thomas Jacombe The Leading of the Holy Spirit Opened; With Some Practical Inquiries Resolved About It. For as many as are led by the Spirit of God, they are the sons of God.--Romans viii. 14. Page 585.
Sermon 25. David Clarkson. What Advantage May We Expect From Christ's Prayer For Union With Himself, and the Blessings Relating To It? Neither pray I for these alone, but for them also which shall believe on me through their word: that they all may be one; as thou, Father, art in me, and I in thee, that they also may be one in us: that the world may believe that thou hast sent me.--John xvii. 20, 21. Page 614.
---
All resources for sale on this website, with the exception of Scottish Metrical Psalms MP3s, are available on the Puritan Hard Drive .
VIDEO INTRODUCTION TO THE PURITAN HARD DRIVE
(This free software includes over 300 Reformation and Puritan Books and MP3s, and the Puritan Hard Drive software and database!)
---
Find Similar Resources by Category
---
---
Phone Orders:
(780) 450-3730
---


To obtain free Reformation books, Puritan MP3s and Calvinistic videos, SWRB discount coupons, etc., add yourself to SWRB's Puritan and Reformed email list by using the form above.
---
---
---
---
---
---
---
---
---
---
---
---
---
---
---
---
---
---
---
---
---
---
---
---
---