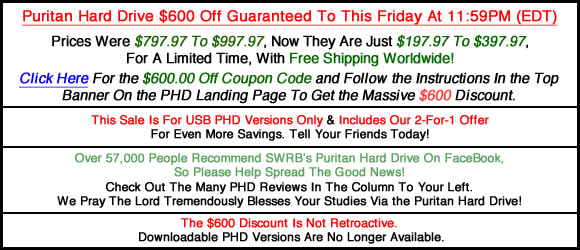 "Behind every great movement of God stands a few generous men and women called Gospel Patrons. Their role of resourcing, partnering, and strategizing with those who proclaim the gospel fueled amazing works of God. This book tells three stories from history that invite us to believe God, step out, and serve the purposes of God in our generation too." - Gospel Patrons: People Whose Generosity Changed the World https://www.gospelpatrons.org/ -- You can get a free PDF and audio (MP3) version of this stirring book at https://www.gospelpatrons.org/. Just sign up to their email list (at the bottom of of the page at https://www.gospelpatrons.org/), and confirm the email they send to you, to confirm your email subscription, and they will email you the links to the free versions of the book, Gospel Patrons: People Whose Generosity Changed the World, when they respond to your email list confirmation email. This book demonstrates the indisputable importance of the people God calls to help fund the ministries that He has chosen to play large rolls in some of the biggest Reformations and revivals in history. It uses the examples of William Tyndale, George Whitefield and John Newton. As with all links we provide we only agree with that which is in agreement with the Bible at the sites where the URLs point.
The Use and Abuse of Diversions (1733) by George Anderson
Availability:
Available for Immediate Download
---
Resource Details
Full Title:
The Use and Abuse of Diversions (1733)
Media:
Digital Download (Adobe PDF)
Publisher:
Still Waters Revival Books
---
Resource Description
A sermon on Luke 19:23: "And he called his ten servants, and delivered them ten pounds, and said unto them, Occupy till I come."

Contains two appendices showing that the stage in particular is an unchristian diversion.

Commenting on the modern equivalent of the stage (and the movie theater could be included here also), giving us an example of how "the children of this world are in their generation wiser than the children of light," Postman writes,

"Television is, after all, a form of graven imagery far more alluring than a golden calf. I suspect (though I have no external evidence of it) that Catholic objections to Bishop Fulton Sheen's theatrical performances on television (of several years back) sprang from the impression that viewers were misdirecting their devotions, away from God and toward Bishop Sheen, whose piercing eyes, awesome cape and stately tones were as close a resemblance to a deity as charisma allows.

Television's strongest point is that it brings personalities into our hearts, not abstractions into our heads. That is why CBS' programs about the universe were called 'Walter Cronkite's Universe.' One would think that the grandeur of the universe needs no assistance from Walter Cronkite.

One would think wrong. CBS knows that Walter Cronkite plays better on television than the Milky Way. And Jimmy Swaggart plays better than God. For God exists only in our minds (please disregard Postman's theologically imprecise language in referring to God--RB), whereas Swaggert is there, to be seen, admired, adorned. Which is why he is the star of the show. And why Billy Graham is a celebrity, and why Oral Roberts has his own university, and why Robert Schuller has a crystal cathedral all to himself. If I am not mistaken, the word for this is blasphemy" (Amusing Ourselves to Death, p 123).

Anderson's book gives more insight into this very pertinent, pressing and prevalent subject. Are you of the spirit of the Psalmist when he declares, "I will set no wicked thing before mine eyes: I hate the work of them that turn aside; it shall not cleave to me" (Ps. 101:3)? If not, why not?
---
All resources for sale on this website, with the exception of Scottish Metrical Psalms MP3s, are available on the Puritan Hard Drive .
VIDEO INTRODUCTION TO THE PURITAN HARD DRIVE
(This free software includes over 300 Reformation and Puritan Books and MP3s, and the Puritan Hard Drive software and database!)
---
Customers Who Viewed This Product Also Viewed
Find Similar Resources by Category
---