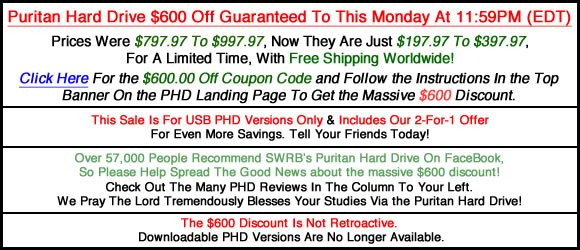 "Behind every great movement of God stands a few generous men and women called Gospel Patrons. Their role of resourcing, partnering, and strategizing with those who proclaim the gospel fueled amazing works of God. This book tells three stories from history that invite us to believe God, step out, and serve the purposes of God in our generation too." - Gospel Patrons: People Whose Generosity Changed the World https://www.gospelpatrons.org/ -- You can get a free PDF and audio (MP3) version of this stirring book at https://www.gospelpatrons.org/. Just sign up to their email list (at the bottom of of the page at https://www.gospelpatrons.org/), and confirm the email they send to you, to confirm your email subscription, and they will email you the links to the free versions of the book, Gospel Patrons: People Whose Generosity Changed the World, when they respond to your email list confirmation email. This book demonstrates the indisputable importance of the people God calls to help fund the ministries that He has chosen to play large rolls in some of the biggest Reformations and revivals in history. It uses the examples of William Tyndale, George Whitefield and John Newton. As with all links we provide we only agree with that which is in agreement with the Bible at the sites where the URLs point.
John Knox and the Church of England: His Work in Her Pulpit and His Influence Upon Her Liturgy, Articles, and Parties (1875) by Peter Lorimer
Availability:
Available for Immediate Download
---
Resource Details
Full Title:
John Knox and the Church of England: His Work in Her Pulpit and His Influence Upon Her Liturgy, Articles, and Parties (1875)
Media:
Digital Download (Adobe PDF)
PDF Index:
Embedded, Appended
Publisher:
Still Waters Revival Books
---
Resource Description
"The 'three mighties' in the army of the Reformation, are undoubtedly Martin Luther, John Calvin, and John Knox. Each of the three has his appropriate place and his peculiar work. Luther cleared the ground; Calvin exhibited the plan of the new edifice; Knox was the workman who erected it." (J.A. Wylie, Ter-centenary of the Scottish Reformation, p. 73, this book is listed under "Cunningham" at PuritanDownloads.com).

Here Lorimer gives us an important look at a major chapter in the life of Christ's Reformation "workman," as founded upon several important papers of Knox never before published. Kyle elaborates: "After the publication of Laing's collection, three smaller Knoxian writings were discovered. In 1875 these tracts were reprinted as part of Peter Lorimer's book John Knox and the Church of England. Scholarly criticism has verified John Knox's authorship of these articles" (The Mind of John Knox, p. 14).

Lorimer himself says that "[t]he amount of fresh biographical and historical material supplied by these papers is so very considerable that it appeared to warrant and suggest a re-writing of the English chapter of Knox's life." Furthermore, he continues, that though Knox is too often thought of only in connection "with his work and success as the Reformer of Scotland," it should be remembered that "a large portion of the best and most energetic part of his life was spent in England, and among Englishmen out of England."

Written as a Monograph to "make larger and freer use of Knox's own writings, in the way of culling their most personal and characteristic passages," Lorimer intimates, "I wished, as much as possible, to let Knox himself be seen and heard in my book." Kevin Reed, one of the foremost Knox scholars alive today, calls this work "an excellent account of Knox's ministry in England" (John Knox the Forgotten Reformer, p. 19. In print from Presbyterian Heritage Publications on the PHP CD under "REED, KEVIN").

A great supplement to any study of Knox.
---
All resources for sale on this website, with the exception of Scottish Metrical Psalms MP3s, are available on the Puritan Hard Drive .
VIDEO INTRODUCTION TO THE PURITAN HARD DRIVE
(This free software includes over 300 Reformation and Puritan Books and MP3s, and the Puritan Hard Drive software and database!)
---
Customers Who Viewed This Product Also Viewed
---
Phone Orders:
(780) 450-3730
---


To obtain free Reformation books, Puritan MP3s and Calvinistic videos, SWRB discount coupons, etc., add yourself to SWRB's Puritan and Reformed email list by using the form above.
---
---
---
---
---
---
---
---
---
---
---
---
---
---
---
---
---
---
---
---
---
---
---
---
---