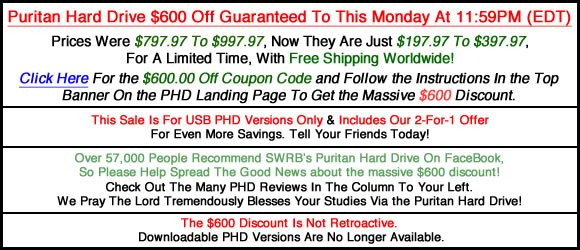 "Behind every great movement of God stands a few generous men and women called Gospel Patrons. Their role of resourcing, partnering, and strategizing with those who proclaim the gospel fueled amazing works of God. This book tells three stories from history that invite us to believe God, step out, and serve the purposes of God in our generation too." - Gospel Patrons: People Whose Generosity Changed the World https://www.gospelpatrons.org/ -- You can get a free PDF and audio (MP3) version of this stirring book at https://www.gospelpatrons.org/. Just sign up to their email list (at the bottom of of the page at https://www.gospelpatrons.org/), and confirm the email they send to you, to confirm your email subscription, and they will email you the links to the free versions of the book, Gospel Patrons: People Whose Generosity Changed the World, when they respond to your email list confirmation email. This book demonstrates the indisputable importance of the people God calls to help fund the ministries that He has chosen to play large rolls in some of the biggest Reformations and revivals in history. It uses the examples of William Tyndale, George Whitefield and John Newton. As with all links we provide we only agree with that which is in agreement with the Bible at the sites where the URLs point.
Puritan Sermons 1659-1689 (Volume 5 reprinted 1844) The Morning Exercises at Cripplegate, St. Giles in the Fields, and in Southwark by 75 Ministers of the Gospel in or Near London with Notes and Translations by James Nichol
Availability:
Available for immediate download
---
Resource Details
Full Title:
Puritan Sermons 1659-1689 (Volume 6, reprinted 1844) The Morning Exercises at Cripplegate, St. Giles in the Fields, and in Southwark by 75 Ministers of the Gospel in or Near London with Notes and Translations by James Nichol
Media:
Digital Download (Adobe PDF)
PDF Index:
Embedded, Appended
Publisher:
Still Waters Revival Books
---
Resource Description
Volume 5:
Sermon 1. Thomas Case. The Introduction. Hold fast the form of sound words, which thou hast heard of me, in faith and love which is in Christ Jesus.--2 Timothy i. 13. Page 9.
Sermon 2. William Bates. God Is. But without faith it is impossible to please him: for he that cometh to God must believe that he is, and that he is a rewarder of them that diligently seek him.--Hebrews xi. 6. Page 30.
Sermon 3. Benjamin Needler. The Trinity Proved By Scripture. For there are three that bear record in heaven, the Father, the Word, and the Holy Ghost: and these three are one.--1 John v. 7. Page 54.
Sermon 4. Samuel Jacombe. The Divine Authority of the Scriptures. All scripture is given by inspiration of God, and is profitable for doctrine, for reproof, for correction, for instruction in righteousness.--2 Timothy iii. 16. Page 67.
Sermon 5. John Howe. Man's Creation In A Holy But Mutable State. Lo, this only have I found, that God hath made man upright; but they have sought out many inventions.--Ecclesiastes vii. 29. Page 82.
Sermon 6. William Cooper. The Covenant of Works. And the LORD God commanded the man, saying, Of every tree of the garden thou mayest freely eat: but of the tree of the knowledge of good and evil, thou shalt not eat of it: for in the day that thou eatest thereof thou shalt surely die.--Genesis ii. 16, 17. Page 93.
Sermon 7. John Wells. The Fall of Man. Wherefore, as by one man sin entered into the world, and death by sin; and so death passed upon all men, for that all have sinned.--Romans v. 12. Page 104.
Sermon 8. Peter Vinke. Of Original Sin Inhering. Knowing this, that our old man is crucified with him, that the body of sin might be destroyed, that henceforth we should not serve sin.--Romans vi. 6. Page 115.
Sermon 9. Stephen Watkins. The Misery of Man's Estate By Nature. And were by nature the children of wrath, even as others.--Ephesians ii. 3. Page 135.
Sermon 10. Thomas Manton. Man's Impotency to Help Himself Out Of That Misery. For when we were yet without strength, in due time Christ died for the ungodly.--Romans v. 6. Page 157.
Sermon 11. Thomas Jacombe. The Covenant of Redemption Opened. When thou shalt make his soul an offering for sin, he shall see his seed, he shall prolong his days, and the pleasure of the LORD shall prosper in his hand.--Isaiah liii. 10. Page 168.
Sermon 12. Samuel Annesley. The Covenant of Grace. But now hath he obtained a more excellent ministry, by how much also he is the mediator of a better covenant, which was established upon better promises.--Hebrews viii. 6. Page 181.
Sermon 13. William Whitaker. The Mediator of the Covenant, Described in His Person, Natures, and Offices. And one mediator between God and men, the man Christ Jesus.--1 Timothy ii. 5. Page 202.
Sermon 14. John Meriton. Of Christ's Humiliation. He humbled himself, and became obedient unto death, even the death of the cross.--Philippians ii. 8. Page 214.
Sermon 15. William Taylor. Christ's Exaltation. Wherefore God also hath highly exalted him, and given him a name which is above every name: that at the name of Jesus every knee should bow, of things in heaven, and things in earth, and things under the earth; and that every tongue should confess that Jesus Christ is Lord, to the glory of God the Father.--Philippians ii. 9--11. Page 236.
Sermon 16. Matthew Poole. The Satisfaction of Christ Discussed. And, having made peace through the blood of his cross, by him to reconcile all things unto himself; by him, I say, whether they be things in earth, or things in heaven.--Colossians 1. 20. Page 259.
Sermon 17. Thomas White. Of Effectual Calling. To them who are the called according to his purpose.--Romans viii. 28. Page 269.
Sermon 18. Thomas Lye. The True Believer's Union With Christ Jesus. But he that is joined unto the Lord is one spirit.--1 Corinthians vi. 17. Page 284.
Sermon 19. John Gibbon. The Nature of Justification Opened. Therefore being justified by faith, we have peace with God through our Lord Jesus Christ:--Romans v. 1. Page 304.
Sermon 20. Roger Drake. The Believer's Dignity and Duty Laid Open, in the High Birth Wherewith He Is Privileged, and the Honourable Employment to Which He Is Called. But as many as received him, to them gave he power to become the sons of God, even to them that believe on his name: which were born, not of blood, nor of the will of the flesh, nor of the will of man, but of God.--John i. 12, 13. Page 328.
Sermon 21. Thomas Parson. Of Saving Faith. Believe on the Lord Jesus Christ, and thou shalt be saved.--Acts xvi. 7. Page 345.
Sermon 22. Zachary Crofton. Repentance Not To Be Repented, Plainly Asserted, and Practically Explained. Him hath God exalted with his right hand to be a Prince and a Saviour, for to give repentance to Israel, and forgiveness of sins.--Acts v. 7. Page 371.
Sermon 23. John Sheffield. Of Holiness. Follow peace with all men, and holiness, without which no man shall see the Lord:--Hebrews xii. 14. Page 426.
Sermon 24. Edmund Calamy. Of The Resurrection. Why should it be thought a thing unreasonable [incredible] with you, that God should raise the dead?--Acts xxvi. 8. Page 439.
Sermon 25. Thomas Watson. The Day of Judgment Asserted. Because he hath appointed a day, in the which he will judge the world in righteousness by that man whom he hath ordained; whereof he hath given assurance unto all men, in that he hath raised him from the dead.--Acts xvii. 31. Page 459.
Sermon 26. Richard Adams. Of Hell. Then shall he say also unto them on the left hand, Depart from me, ye cursed, into everlasting fire, prepared for the devil and his angels.--Matthew xxv. 41. Page 471.
Sermon 27. Thomas Woodcock. Of Heaven. Then shall the King say unto them on his right hand, Come, ye blessed of my Father, inherit the kingdom prepared for you from the foundation of the world.--Matthew xxv. 34. Page 492.
Sermon 28. Thomas Case. The Conclusion. Hold fast the form of sound words, which thou hast heard of me, in faith and love which is in Christ Jesus.--2 Timothy i. 13. Page 516.
The Morning Exercise Against Popery.
Sermon 1. Christopher Fowler. The Scripture To Be Read By The Common People. I charge you by the Lord that this epistle be read unto all the holy brethren.--1 Thessalonians v. 27. Page 547.
Sermon 2. Thomas Manton. The Scripture Is A Sufficient Rule of Christian Faith, Or A Record Of All Necessary Christian Doctrines, Without Any Supplement Of Unwritten Traditions, As Containing Any Necessary Matter Of Faith; And Is Thus Far Sufficient For The Decision of All Controversies. Therefore, brethren, stand fast, and hold the traditions which ye have been taught, whether by word, or our epistle.--2 Thessalonians ii. 15. Page 592.
Sermon 3. John Owen. The Testimony of the Church Is Not The Only Nor The Chief Reason of Our Believing the Scripture to be the Word of God. They have Moses and the prophets; let them hear them.--Luke xvi. 29. Page 606.
Sermon 4. Matthew Poole. Pope and Councils Not Infallible. But be not ye called Rabbi: for one is your Master, even Christ; and all ye are brethren. And call no man your father upon the earth: for one is your Father, which is in heaven. Neither be ye called masters: for one is your Master, even Christ.--Matthew xxiii. 8--10. Page 649.
Sermon 5. Richard Baxter. Christ, And Not The Pope, Universal Head of the Church. Now ye are the body of Christ, and members in particular. And God hath set some in the church, first apostles, secondarily prophets, thirdly teachers, after that miracles, then gifts of healings, helps, governments, diversities of tongues.--1 Corinthians xii. 27, 28. Page 672.
Sermon 6. Henry Hurst. Kings and Emperors Not Rightful Subjects to the Pope. I think myself happy, king Agrippa, because I shall answer for myself this day before thee touching all the things whereof I am accused of the Jews.--Acts xxvi. 2. Page 689.
---
All resources for sale on this website, with the exception of Scottish Metrical Psalms MP3s, are available on the Puritan Hard Drive .
VIDEO INTRODUCTION TO THE PURITAN HARD DRIVE
(This free software includes over 300 Reformation and Puritan Books and MP3s, and the Puritan Hard Drive software and database!)
---
Find Similar Resources by Category
---
---
Phone Orders:
(780) 450-3730
---


To obtain free Reformation books, Puritan MP3s and Calvinistic videos, SWRB discount coupons, etc., add yourself to SWRB's Puritan and Reformed email list by using the form above.
---
---
---
---
---
---
---
---
---
---
---
---
---
---
---
---
---
---
---
---
---
---
---
---
---