CLICK HERE FOR THE LOWEST PRICE EVER OFFERED ON THE PURITAN HARD DRIVE (LIMITED TIME OFFER)
2 for 1 Customer Appreciation Puritan Hard Drive Sale Guaranteed Until This FRIDAY (April 18, 2014) At 11:59PM (ET)
Recently, our 2 for 1 Puritan Hard Drive (PHD) Super Sale started as a way to reduce excess inventory. However, we have been so moved by the outpouring of big-hearted Christian generosity and kindness (some even buying two PHDs for others, while not even buying one for themselves), from the many people who used the 2 for 1 sale to obtain Puritan Hard Drives for others in need (who often could not afford a PHD themselves, though they have desired to obtain the PHD for some time), that we have decided to renew the 2 for 1 sale one more time, until this FRIDAY at 11:59PM (ET). Some people have also asked us for a little more time and we know some people are still on the fence about this purchase, so, Lord willing, this will be helpful to everyone in these positions.
We also believe our Lord would have us do this, to get more of His truth around, to bless more of His people and to bring more declarative glory to His great name (all by His grace) -- as we are able to get many more Puritan Hard Drives into the hands of those who need them most with a 2 for 1 offer. Moreover, after all the soul stirring testimonies of rejoicing we have heard in conjunction with the 2 for 1 offer (from both buyers and receivers of free Puritan Hard Drives), we would like to give everybody one more chance to take part in this blessedness from our Lord -- because "It is more blessed to give than to receive." (Acts 20:35).
The 2-for-1 PHD offer is not retroactive and other discount coupons are not valid for this offer.
Click on the appropriate red button below to see the sale prices and more details on each version:
The Chamber of Imagery in the Church of Rome Laid Open; or, An Antidote Against Popery by John Owen
Availability:
Available for Immediate Download
---
Resource Details
Full Title:
The Chamber of Imagery in the Church of Rome Laid Open; or, An Antidote Against Popery
Media:
Digital Download (Adobe PDF)
PDF Index:
Embedded, Appended
Publisher:
Still Waters Revival Books
---
Resource Description
A veritable masterpiece, not only as literature and thought, but as an antidote to the puerile and shallow conceptions of worship that abound today (in Romanism and among all forms of sectarianism).
Independents, Anglicans, Baptists, Charismatics, and even sadly many so-called "Reformed" churches today need the strong spiritual tonic dished out by Owen, to free themselves (by God's grace) from their present Babylonian captivity. The pretensions of worldly splendor, sensual experience, mystical "movings of the spirit," and the corruption of fleshly minds (that is always ready to burst forth from the cesspools of novelty) is laid low by Owen as he brings Biblical standards to bear against the beggarly elements of imagery, idolatry and innovation.

Demonstrating the odiousness of the shadowy abominations "portrayed on the walls of the Chamber of Imagery," Owen shows the futility of "ceremonies, vestments, gestures, ornaments, music, altars, images, paintings and bodily veneration," as proceeding from the will of man, and not God, in His own worship!

A real spiritual feast defending the Reformation's regulative principle of worship; don't miss it!

48 pages.
---
All resources for sale on this website, with the exception of Scottish Metrical Psalms MP3s, are available on the Puritan Hard Drive .
VIDEO INTRODUCTION TO THE PURITAN HARD DRIVE
(This free software includes over 300 Reformation and Puritan Books and MP3s, and the Puritan Hard Drive software and database!)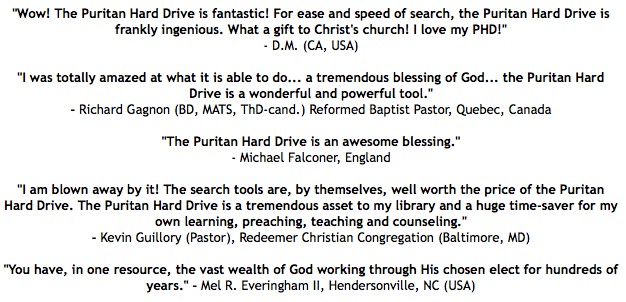 ---
Customers Who Viewed This Product Also Viewed
Find Similar Resources by Category
---